We will keep updating programs and details in the coming days. The information contained herein is subject to change without prior notice, please return to visit us again.
Lessons Learned from Testing Exoskeletons
Airbus
GERMANY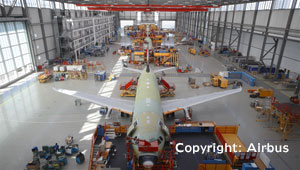 This presentation gives an overview on the special needs for exoskeletons applicable in the aerospace industry. Further, the study shows an example of the development and testing history of one selected exoskeleton. The presentation concludes with a discussion on the potential and challenges of future exoskeletons.
Exoskeletons: A reasonable supplement to automation
German Bionic
GERMANY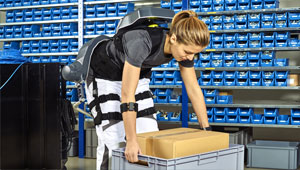 According to the Federal Institute for Occupational Safety and Health (BAuA), musculoskeletal injuries, caused by strain lifting and carrying at work, account for 23 % of sick days in Germany, leading to an estimated annual 10 billion Euro loss in production. Active exoskeletons, like German Bionic´s CRAY X, were created in cooperation with leading work ergonomists specializing in manual hand lifting of goods and tools. Wearing those power suits while lifting heavy loads reduces compression pressure in the lower back area, thereby preventing workplace accidents and musculoskeletal injuries.
Training and home-use of an exoskeleton in patients with complete spinal cord injury
Sint Maartenskliniek Research
THE NETHERLANDS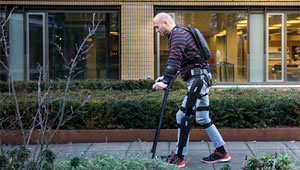 We will share the objective was to examine the feasibility of exoskeleton training for home-use, to assess exoskeleton home-use and gain insight in user experiences. Fifteen participants with motor complete spinal cord injury participated (more will be included). Participants received eight weeks of training (24-27 session) with the Rewalk-exoskeleton. Eleven out of fifteen participants achieved a skills level for safe home-use. Exoskeleton home-use ranged between 1 and 13 out of 15 days and between 330 and 11562 steps.
A framework to measure exoskeleton skill level in people with complete spinal cord injury
Sint Maartenskliniek Research
THE NETHERLANDS
The aim was to develop and test the hierarchy and reliability of a framework for measuring the progress in the ability to perform exoskeleton skills. Twelve paraplegic patients received eight weeks of exoskeleton training with the Rewalk-exoskeleton. Exoskeleton skill-level was assessed every two weeks, three times with the Intermediate-skills-test and once with the Final-skills-test. The number of achieved skills was significantly different between the three Intermediate-skills-tests XF2(2)=12.36, p=0.001. The decreased rate of participants who achieved the intermediate skills and the coefficient of reproducibility of 0.98 resembled a hierarchical order. The consistency of 73% (Intermediate-skills-tests) and 81% (Final-skills-test) was considered acceptable.
BABYBE Emotional Prothesis for Prematures
babybemedical
GERMANY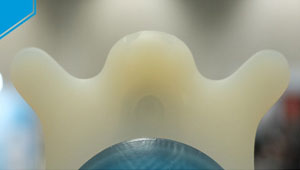 BABYBE is softrobotic prothesis for premature infants that emulate the mothers chest like breathing, heartbeat and voice in critical care NICU situations.
Empowering human operators in I4.0: challenges, achievements and perspectives based on EURECA and. EFFORTLESS projects
CNR-STIIMA
ITALY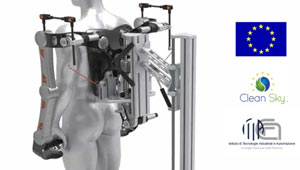 In the context of the factory of the future scenario, a human-centric work-scene is the focus of such industrial revolution, requiring robotics to assist humans, even physically. In order to improve the ergonomics of tasks, together with productivity and flexibility of production, cooperative and wearable robotics is increasingly demanded. The proposed contribution aims at describe challenges, achievements and perspectives of human operators empowering in the context of Industry 4.0. The discussion is based on two on going projects: H2020 CleanSky 2 EURECA (empowering human operators in aerospace industry) and EFFORTLESS (empowering human operators in automotive industry) projects, describing the designed solutions in terms of both hardware and control and discussing about current TRL. A particular focus is made on human-robot interaction, analyzing different metrics for its evaluation, allowing to improve control performance.
Wearable Ergonomics - Using Wearable Sensors to Evaluate Exoskeletons in the Field
Briotix
USA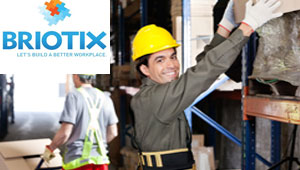 Work related injuries are a major problem in the USA and around the world. Back and shoulder injuries are especially problematic and costly. A number of exoskeletons have been developed to address these problems, but do they actually work, and what are the long term user implications? We have tested a number of exoskeletons with various wearable sensors and a standardized functional movement testing approach and would like to share our results.
Exoskeletons : Past, Present and Future
SkelEx
THE NETHERLANDS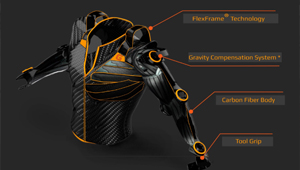 This talk focuses on the future of exoskeletons, from the vantage point of today while keeping in mind learnings from the past. As we live in a time where such devices will become mainstream, we will discuss needs of real users as well as the subjective nature of this challenge. The main issues while using an exoskeletons in a practical setting will also be discussed, followed by the best strategies to tackle them. There will also be a demonstration of the latest SkelEx prototype - a non powered upper body exoskeleton for working in the front or overhead. Members of the audience will have the opportunity to try the device at the end of the talk. This talk will be interesting for those who want to develop themselves in the field of exoskeletons, or for those who are enthusiastic about modern robotics and their applications.
Innovative Methodology for Efficient Control of Humah-robot Systems
Bulgarian Academy of Sciences
BULGARIA
Motor control is complicated for people with robotic devices (prostheses, orthoses, exosuits, and the like). We propose an innovative and generic methodology for efficient control design in various motion/posture tasks, incl. locomotion. As design criteria we take into consideration motion/posture stability, movement execution time, energy expenditure, and the principle of "assistance-as-needed". For posture stabilization we can design robust feedback controllers usng special design relations. We have developed also a control learning approach that optimizes the performance within a minimum number of test movements. The proposed approach has the necessary mathematical and computation guarantees for its feasibility and optimality.